All auditions will take place in the bar, doors open 7.00pm and start 7.30pm unless otherwise stated. All are welcome, you do not have to be a member to attend an audition. Audition pieces will be available during the night of Meet the Director. You do not have to audition if you attend the Meet the Director Night, come along and join in the fun...bar also open and everyone is welcome to stay after the reading for KITT Night!
The next auditions on the main stage are for Girl on the Train
An Introduction to The Girl on the Train with Stuart Stretton will take place on
Thursday 4th January at 7.30pm
This night will include the opportunity to ask any questions about the upcoming play and auditions. Scripts for the auditions will be available on the night for you to borrow and use for the auditions.
The auditions will be held - Tuesday 9th January at 7.30pm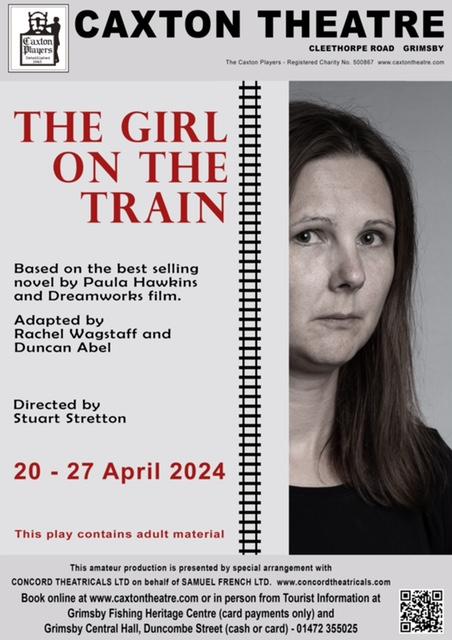 -Roles-
RACHEL WATSON
F – 30s/40s - a barely functional alcoholic. Her life has never been the same since her ex-
husband, Tom, left her for anther woman. She awakes one day with a bleeding cut
to her head, no memory of what has happened and the news that a woman she has
been 'stalking' has gone missing.
TOM WATSON
M – 30s/40s - the ex-husband is frustrated that his ex-wife still finds a way to be involved in his
life. He still worries about her but he doesn't want her to be around. His priority is
his current family – Anna and his daughter, Evie – will he protect this life at all costs?
ANNA WATSON
F – 30s - the current wife of Tom. She was 'the other woman' but she soon won her man,
however she is still frustrated that the ex-wife still manages to find a way in to their
lives. She is scared of Rachel but tries not to show it.
MEGAN HIPWELL
F – 20s/30s - Megan has gone missing, and no one knows where she is. Megan has been living
her new life with husband Scott, but still punishes herself with memories of her
previous life – the days of being a 'wild child'. She soon goes missing after Scott finds
out a secret. What has happened?
SCOTT HIPWELL
M – 30s - Attractive gentleman, successful and husband of Megan. He loves her very much
but when a secret comes out, his anger comes out and his wife very soon goes
missing? What happened? Does he feel relieved or guilty?
Dr KAMAL ABDIC (might be renamed something like KARL ANDREWS)
M – 30-50s - Megan's therapist. He is the only person to truly know Megan's backstory and the
suffering she has endured for years, but when the police come to ask questions
about her disappearance, does he tell them everything he knows or does he have
secrets of his own.
D.I. GASKELL
M/F – 30-50s - Police Detective Inspector who is charge of the missing person case of Megan
Hipwell. He takes no nonsense and just wants to solve the case – as part of the
investigation he is intrigued when one name keeps coming up over and over again –
RACHEL WATSON. Does she know something?
When Rachel Watson wakes up with blood to her head, no memory of what has happened and
police officer knocking at her door, she becomes entangled in the mysterious disappearance of
Megan Hipwell.
Rachels' life unravels before our eyes as she obsesses with a seemingly perfect couple who she
glimpses from the train window every day. When the wife, Megan, goes missing Rachel finds herself
caught in a web of secrets, lies and danger.
This psychological drama is full of suspense and is based on the best-selling 2015 novel by Paula
Hawkins. Experience the twists and turns are Rachel's blurred memories become key to solving the
mystery of the missing woman. Can she trust her own recollections? Is she a witness or a suspect?



Other audition dates: -
Hens - Introduction to...15th February; Auditions - 20th February 2024
Geezers - Introduction to...4th April 2024; Auditions 9th April 2024
The Tempest - Introduction to...23rd May 2024; Auditions 28th May 2024
The Dresser - Introduction to...4th July 2024; Auditions 9th July 2024
One Man, Two Governors - Introduction to...22nd August 2024; Auditions 28th August 2024
Dates for 2025 season auditions will be released in September 2024