All readings and auditions will take place in the bar, doors open 7.00pm and start 7.30pm unless otherwise stated. All are welcome, you do not have to be a member to attend a reading or an audition. Audition pieces will be available during the night of the reading. You do not have to audition if you attend the reading, come along and join in the fun...bar also open and everyone is welcome to stay after the reading for KITT Night!
The next auditions are for She Kills Monsters
The auditions will be held: - Tuesday 11th April 2023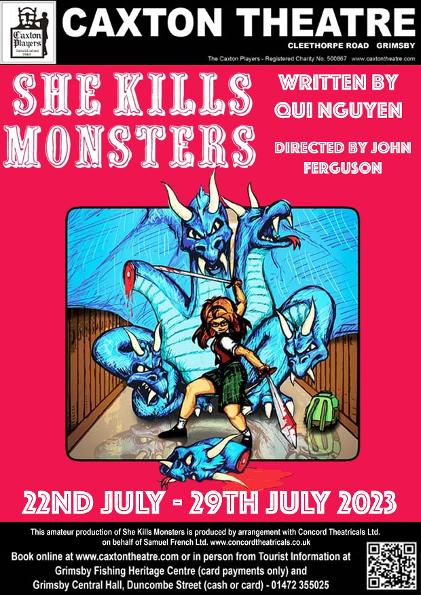 -Roles-
Agnes (F)- The woman trying to understand her younger sister
Tilly (F)- The fantasy roleplaying younger sister of Agnes (Paladin)
Chuck (M)- Tilly's Dungeon Master for her D&D group.
Miles (M)- Agnes's boyfriend
Kaliope/Kelly- Tilly's friend (Dark Elf Rogue)
Lilith/Lilly (F)- Tilly's friend (Demon Queen)
Vera/Evil Gabbi (F)- Agnes's friend
Narrator/Evil Tina/ Farrah the Faerie (F)- Various fantasy monsters
Steve (M)- A brave adventurer...but not very successful
Orcus/Ronnie (M)- Tilly's friend (Demon Lord)
A comedic romp into the world of fantasy role-playing games!
She Kills Monsters tells the story of Agnes Evans, a young woman grieving for her deceased sister. The Evans sisters never were especially close, but after Tilly's death Agnes receives a notebook containing a game scenario created by her sister. She discovers that Tilly was awell-known Dungeons & Dragons player, and that she was passionate about fantasy gaming.
In order to unlock more secrets about her mysterious young sibling, Agnes recruits a"dungeon master" named Chuck to help her understand and grieve Tilly.
In This high-octane dramatic comedy, laden with homicidal fairies, nasty ogres and 90's popculture, acclaimed playwright Nguyen offers a heart-pounding homage to the geek andwarrior within us all.
Other audition dates: -
She Kills Monsters - Auditions 11th April
Home I'm Darling - Auditions 30th May
MacBeth - Reading 6th July; Auditions 11th July
The Railway Children - Auditions 29th Aug