Ticket Prices 2019
To buy online click here
Saturday performances - all seats £8.50
Monday to Friday performances - all seats* £8.00
*Concessions available Monday performance - £7.00
(Senior citizens, jobseeker's and students)
Buy 10 get 1 free for tickets bought for the same night's production, not available online, please contact ticket offices for this offer
Tickets will not be posted out. All tickets purchased on the website will need to be collected from the Box Office at The Caxton Theatre during the week of the production.
Tickets are available from Tourist Information Centres situated at The Fishing Heritage Centre and Cleethorpes Library where you can either book tickets over the phone or pick them up in person. Tourist Information opening times are Mon, Wed and Fri 11am to 3pm
Alternatively you could contact the Box Office on the night of a performance after 6.45pm to book for future performances or check availability for that week's production. Tickets for future performances can also be bought during the interval.
****Please Note, there is a NO REFUND policy on our ticket sales****
Contact Information
Tourist Information (01472) 323111
Fishing Heritage Centre
Alexandra Dock
DN31 1UZ
Cleethorpes Library
Alexandra Road
DN35 8LG
Caxton Box Office (01472) 345167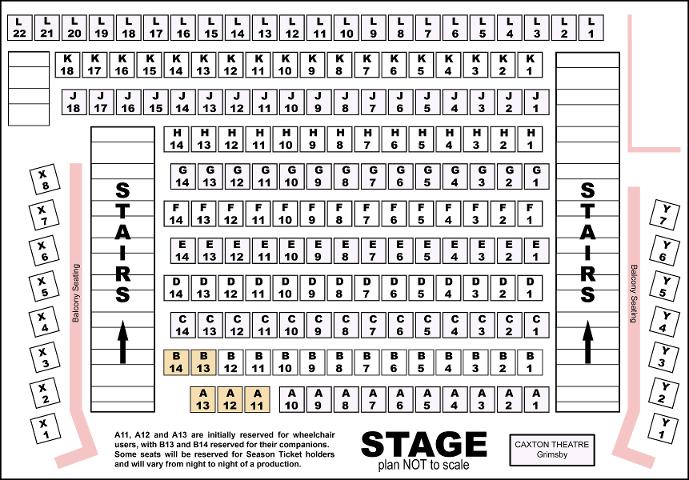 Season Tickets
The ideal gift whether a present for Christmas, an anniversary or birthday, a Caxton Theatre Season Ticket makes a perfect gift, reminding the recipient of your appreciation not once but eight times a year. Or why not treat yourself and guarantee your favourite seat throughout the year? Season tickets for the 2019 season are currently on sale for all eight Caxton Players main house productions. For further details please contact our theatre box office staff during the interval of any play or e-mail caxton.theatre@ntlworld.com for more information.
Studio Bar Productions
Most tickets for Caxton productions in our Studio Bar are priced at £5 per ticket. Seats are not allocated in the Studio Bar, so on the night of the performance you will be able to choose where you are sitting. Obviously the earlier you get to the theatre, the better chance you have at a seat of your liking. Tickets for Studio Bar productions can be found on our ticketing website with main house productions.