Quartet
16th Oct - 23rd Oct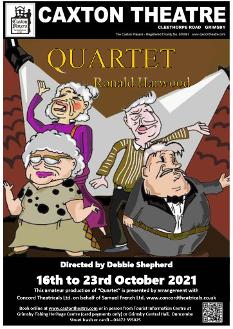 The story takes place in a home for retired musicians and centres on four retired opera singers. Three old friends Cecily, Reginald and Wilfred, who were quite famous in the opera world in their day, are enjoying their retirement, joking and reminiscing. They are also looking forward to Verdi's birthday on the 10th October, when the home will be having a concert in which the three will be performing together. However, their peace is destroyed with the arrival of Jean, an old friend of theirs who worked successfully on a 'Quartet' with them many years ago. The problem is, she was (and still is) not the easiest of people to get on with. Painful memories are brought to the surface again, particularly for Reggie, who had a disastrous marriage to Jean.
"Quartet" is a beautiful and delightful play that is both funny and touching and revolves around our 4 characters It is full of wicked and saucy humour about growing old and about art, hope and confidence for people who, in their retirement, fear they may no longer have much to offer. It is a play that shows that as we age we still have a zest for life and the same desires, needs and worries as we did when we were younger.
Quartet is directed by Debbie Shepherd.
Wilf will be played by Michael Mayne.
Reggie shall be played by Caxton's familiar face and friend Bruce Forster.
Cissy is being portrayed by another long-standing Caxton performer, Christine Cornthwaite
Jean completes our Quartet and my final cast member is Anita Sorenson.


For more information on tickets click here.