***Please note that readings/auditions are being held in the main theatre due to the ongoing bar refurbishment.***
All readings and auditions will take place in the bar***, doors open 7.00pm and start 7.30pm unless otherwise stated. All are welcome, you do not have to be a member to attend a reading or an audition.Audition pieces will be available during the night of the reading. You do not have to audition if you attend the reading, come along and join in the fun...bar also open***!
The next reading and auditions are for 'Quartet'
- SYNOPSIS -
The story takes place in a home for retired musicians and centres on four retired opera singers. Three old friends Cecily, Reginald and Wilfred, who were quite famous in the opera world in their day, are enjoying their retirement, joking and reminiscing. They are also looking forward to Verdi's birthday on the 10th October, when the home will be having a concert in which the three will be performing together. However, their peace is destroyed with the arrival of Jean, an old friend of theirs who worked successfully on a 'Quartet' with them many years ago. The problem is, she was (and still is) not the easiest of people to get on with. Painful memories are brought to the surface again, particularly for Reggie, who had a disastrous marriage to Jean.
"Quartet" is a beautiful and delightful play that is both funny and touching and revolves around our 4 characters It is full of wicked and saucy humour about growing old and about art, hope and confidence for people who, in their retirement, fear they may no longer have much to offer. It is a play that shows that as we age we still have a zest for life and the same desires, needs and worries as we did when we were younger.
-Cast List-
2m/2f
Cecily (Cissy) (f) - gives the performer the opportunity to deliver a funny and touching performance as she begins to lose her faculties, confusing her day-to-day life with memories and dreams of India. She is a very bubbly and exuberant character who every one loves.

Jean (f) - shows a woman who is having a hard time coming to terms with her past and her future! Although she is at times abrupt and stern she is, at heart, a very scared and vulnerable lady. In her day she was the 'grande dame' and her stature, poise and delivery is in that manner.

Wilf (m) - still sees himself as the young vibrant impresario and spends his time chuckling about sex and often venting a lot of his sexual frustration at Cissy. Again, a lot of Wilf's front is actually hiding a gentle and disappointed side to him. He is a very artisan enigmatic character.

Reginald (Reggie) (m) -requires the character to be reserved and pleasant one moment and then raging the next but again he is vulnerable and hides his vulnerability and does not want his past resurrected or his inadequacies being brought to light.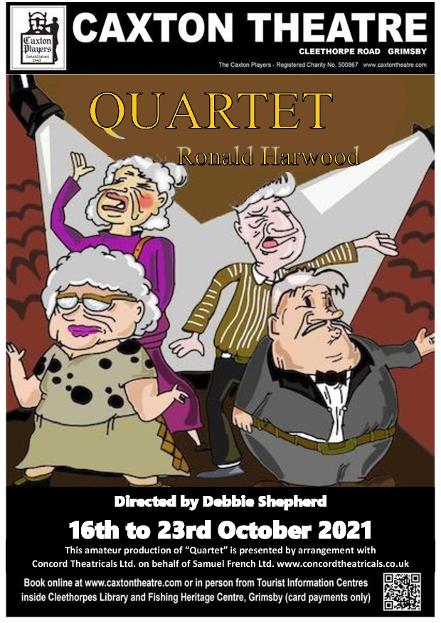 These four characters are not to be confused as geriatric retired people. They are not in a 'residential home' as such but rather they are in a retirement establishment for thespian or artistic people. Some have ended up on hard times so reside here through charity, others pay their own way – but they are all here because the work has dried up and they have nowhere else to call home.
If you would like more information or want to read the script, Quartet is being directed by Debbie Shepherd and she would love to hear from you. Please ring her on 01652 618165 or mobile 07894449430 or email dshepherd65@hotmail.co.uk
The reading will take place:- Thursday 15th July
The audition will take place:-Tuesday 3rd August
Other reading and audition dates:
The Three Musketeers: Reading 26th August; Auditions 31st August
January Production: Reading 30th September; Auditions 5th October
March Production: Reading 18th Nov; Auditions 23rd Nov