All readings and auditions will take place in the bar, doors open 6.45pm and start 7.30pm unless otherwise stated. Audition pieces will be available during the night of the reading. You do not have to audition if you attend the reading, come along and join in the fun...bar also open! Entrance is via Strand Street only.
The next reading and auditions are for 'Around the World in 80 Days' directed by Gemma Dodds
- SYNOPSIS -
The fabulously wealthy Victorian gentleman Phileas Fogg wagers his life's fortune that he can circumnavigate the globe in just 80 days. Along with his hapless valet, Passeportout, he sets out on a dazzling escapade that takes him from the misty alleys of London to the subcontinent and on to the Wild West as they race against the clock on a dizzying succession of trains, steamers, wind-propelled sleighs and elephants. Packing in more than 50 unforgettable characters, this production is going to achieve this with just five actors!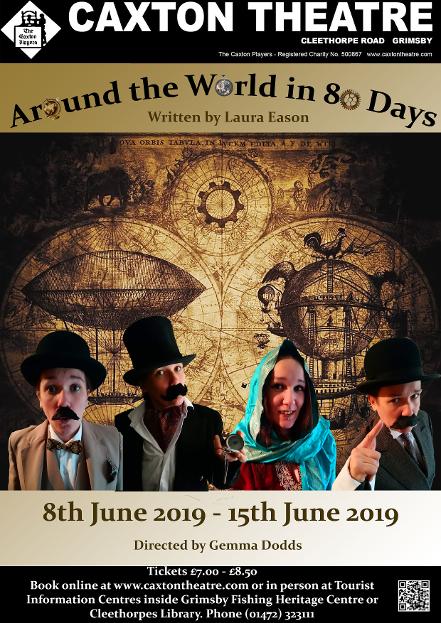 Cast List
Phileas Fogg: - age 40ish M
Inspector Fix plus ensemble: - age 30-40s M/F
Passeportout: - age 20s – 40s M/F (possibility of some physicality, but not overly important)
Mrs Aouda: - age mid 20s to 40s F
Mr Naidu plus ensemble: - age 20s to 50s F
I will also be looking for Youth Theatre members or younger people to portray a circus scene. The circus scene will involve some acrobatics, so the more flexible you are the better. There may also be the opportunity for older Youth Theatre members to portray extras in some scenes, you do not have to be a member of Youth Theatre to be involved in this performance.
If you are interested in any of the roles and wish to know more then please email Gemma at arts.janus@gmail.com
The production will run from 8th June to 15th June (excluding Sunday).
The reading will take place on 7th February 2019 7.30pm
The auditions will take place on 19th February 2019 7.30pm
Other reading and audition dates: -
Decision Height - Reading 11th April, Auditions 16th April
Boudica - Reading 23rd May, Auditions 28th May
A Bunch of Amateurs - Reading 4th July, Auditions 9th July
A Christmas Carol - Reading 22nd August, Auditions 27th August