All readings and auditions will take place in the bar, doors open 7.00pm and start 7.30pm unless otherwise stated. Audition pieces will be available during the night of the reading. You do not have to audition if you attend the reading, come along and join in the fun...bar also open!
The next reading and auditions are for 'A Bunch of Amateurs' directed by Debra West
- SYNOPSIS -
Keen to boost his flagging career, fading Hollywood action hero Jefferson Steel arrives in England to play King Lear in Stratford – only to find that this is not the birthplace of the Bard, but a sleepy Suffolk village. And instead of Kenneth Branagh and Dame Judi Dench, the cast are a bunch of amateurs trying to save their theatre from developers. Jefferson's monstrous ego, vanity and insecurity are tested to the limit by the enthusiastic am-dram thespians. As acting worlds collide and Jefferson's career implodes, he discovers some truths about himself – along with his inner Lear!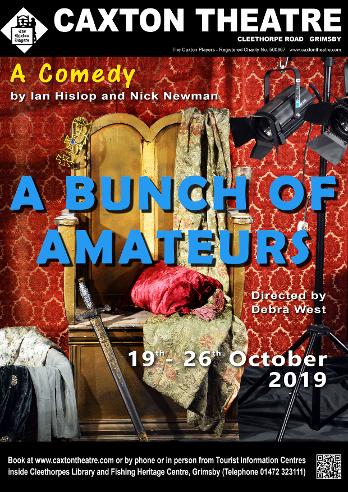 Cast List
CHARACTERS – 4 FEMALES/3 MALES
Dorothy Nettle – attractive, middle-class. Takes little care of her appearance. Friendly, good natured but nobody's fool.
Nigel Newberry – classic am-dram performer, more luvvie than the genuine article. Middle-aged. Dresses smartly.
Mary Plunket – besotted with Jefferson.
Denis Dobbins – middle aged
Jefferson Steel aging Hollywood star, good looking, charming, arrogant and insecure.
Lauren Bell – attractive trophy wife of the sponsor.
Jessica Steel – 17 years old. Jefferson's American disillusioned daughter.
Contact Debra on: 01472 313364 landline or 07841575617 mobile
The production will run from 19th October to 26th October (excluding Sunday).
The reading will take place on 4th July 2019 7.30pm
The auditions will take place on 9th July 2019 7.30pm
Other reading and audition dates: -
A Christmas Carol - Reading 22nd August, Auditions 27th August