All readings and auditions will take place in the bar, doors open 7.00pm and start 7.30pm unless otherwise stated. Audition pieces will be available during the night of the reading. You do not have to audition if you attend the reading, come along and join in the fun...bar also open!
The next reading and auditions are for 'Decision Height' directed by Deb Shepherd
- SYNOPSIS -
It's November 1943 at Avenger Fields Campus. We see the arrival of the incoming class of 44-W-4 at the Women Airforce Service Pilots training base.
We follow the women over a period of 6 months as they train endeavouring to achieve their 'wings'. They all come together from different areas, backgrounds and of all ages. Their lives will be turned upside down as they experience life in a very different way.
The development of each individual character is of the upper most importance. They have to show their experiences of fear, loneliness, hate, stress, anxiety but then again they need to express excitement, courage, warmth, love and tenderness.
Their journey is unique, showing how their feelings for one another change with time. How along the way there is also joy during such a turbulent, horrendous period of time and also heartaches, taking them from strangers to family over an unforgettable 6 months in their lives.
The play will be staged in a very minimalist yet dramatic way involving lighting, projection and fabulous war time music.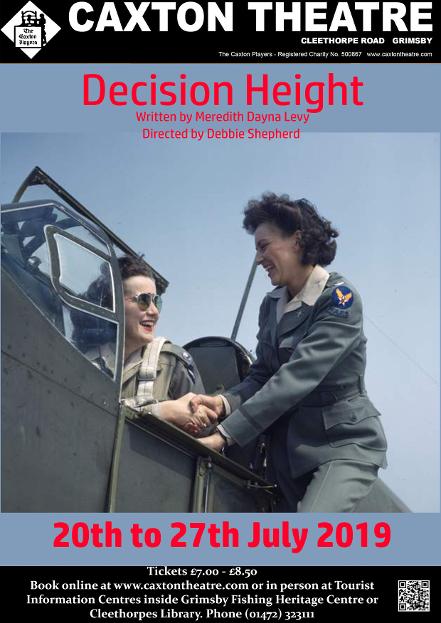 Cast List
(This is an all-female cast)
Virginia Hascall an empathetic observer
Edith "Eddie" Harknell the blunt and quick witted "hot pilot"
Norma Jean Harris the confident teacher
Rosalie Hartson the brave dreamer (one of the youngest women)
Alice Hawkins the cool intellect
Carol Henderson the brazen and earnest runt of the litter (another of the youngest women)
Mrs Deaton the government-employed den mother (older than the others)
Ziggie Lewis a rare woman indeed (again an older than the others woman)
Mildred Simmons a woman of few loyalties
(Remember there are no specific age's just generalisations of some being older than others and some slightly less mature in attitude/personality.)
Do not worry at all about the American accent as this is something we shall be working on together to see how it develops – strong accents are not the heart of this story – it is the strength and weaknesses of the women that creates this (what I envisage) wonderfully moving piece of drama.
The production will run from 20th July to 27th July (excluding Sunday).
The reading will take place on 2nd April 2019 7.30pm
The auditions will take place on 9th April 2019 7.30pm
Other reading and audition dates: -
Boudica - Reading 23rd May, Auditions 28th May
A Bunch of Amateurs - Reading 4th July, Auditions 9th July
A Christmas Carol - Reading 22nd August, Auditions 27th August