All readings and auditions will take place in the bar, doors open 7.00pm and start 7.30pm unless otherwise stated. Audition pieces will be available during the night of the reading. You do not have to audition if you attend the reading, come along and join in the fun...bar also open!
The next reading and auditions are for 'Boudica' directed by John Ferguson
- SYNOPSIS -
A brand-new ancient-history play in verse that tells the story of one of Britain's most iconic women: a queen, a warrior and a rebel.
AD 61, Britannia. On the furthest outreaches of the Roman Empire – at the very edge of the known world – rebellion is brewing.
The King of the Iceni has died and his widow, Boudica, has tried to claim her rightful throne. For her insolence in defying Rome, the queen has been flogged, her daughters have been raped, and they have been banished from their homeland. But now, Queen Boudica has returned. And this time she has an army.
She will have revenge. She will have blood. She will make Rome quake in fear.

Boudica by Tristan Bernays premiered at Shakespeare's Globe, London, in September 2017.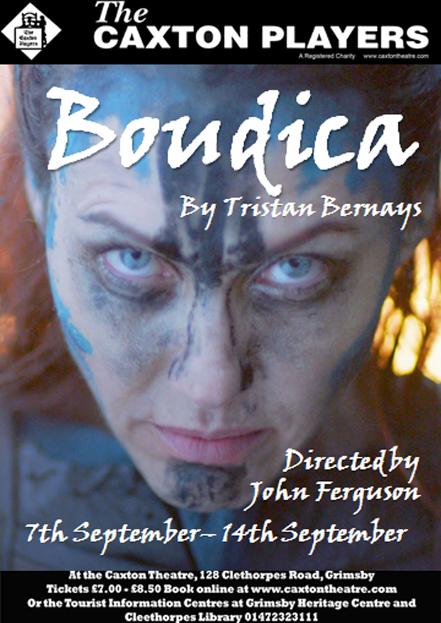 Cast List
Britons
Boudica: Warrior Queen Of legend. Early 30's-late 30's
Blodwynn: Daughter Of Boudica. Late teen- early 20's
Alonna: Daughter Of Boudica. Late teen- early 20's
Cunobeline: Wise King and Boudica's friend. Late 20's min.
Badvoc: Brutal warlord and ally. Late 30's min.
Romans
Suetonius: General tasked to defeat Boudica. Mid 20's min.
Lucius/ Centurion 2: Cowardly Roman governor. Then Centurion. 40's Min
Deciamus/ Warrior: Roman soldier. Then British Soldier. Any age.
Silvia/ Andraste: Roman citizen. Goddess of Victory and Battle. Early 20's- late 20's
Cato/ Clothen: Roman Soldier then British Warrior. Any age.
Sejanus/ sestus: Roman Soldier. Then advisor to Lucius.
Ensemble 1 (Male)
Centurion 1, Waylen, Soldier, Belgic 1, Warrior 1.Any age.
Ensemble 2 (Female)
Gunnervik, Druid, Messenger, Belgic 2, Roman woman, Warrior woman. Any age.
Please note, this will be a physically demanding play in terms of pace and stage combat. You don't need experience in stage combat, nor be super fit, but be prepared for a high energy and physically demanding role when you audition.
The production will run from 7th September to 14th September (excluding Sunday).
The reading will take place on 23rd May 2019 7.30pm
The auditions will take place on 28th May 2019 7.30pm
Other reading and audition dates: -
A Bunch of Amateurs - Reading 4th July, Auditions 9th July
A Christmas Carol - Reading 22nd August, Auditions 27th August