All readings and auditions will take place in the bar, doors open 7.00pm and start 7.30pm unless otherwise stated. All are welcome, you do not have to be a member to attend a reading or an audition.Audition pieces will be available during the night of the reading. You do not have to audition if you attend the reading, come along and join in the fun...bar also open***!
The next reading and auditions are for
'The Three Musketeers'
- SYNOPSIS -
'My name is D'Artagnan, musketeer to King Louis the Thirteenth, defender of the Queen's diamonds, and the man you tried to poison in that bar.' When the young and naive D'Artagnan sets out on his quest to become a King's musketeer, he immediately encounters the dangerous femme fatale, Milady de Winter. After discovering that the musketeers have been disbanded, he makes it his mission to get them reinstated. But will his feud with Milady thwart him? And who the heck is she? This riotous adaptation of Alexandre Dumas' classic novel by John Nicholson (Hound of the Baskervilles, Peepolykus) was originally performed by physical-comedy theatre company Le Navet Bete on a UK tour in 2019, with four actors playing over thirty characters. It was co-produced by Le Navet Bete and Exeter Northcott Theatre.
The Three Musketeers is a funny, high-energy adaptation of a universally loved story, which is suitable for audiences of all ages. Swashbuckling and rollicking adventure guaranteed – convincing French accents, not somuch.
-Cast List
4 Male- Ages approximately 25 - 40
All Actors are to play multi-roles covering around 30 characters.
Come and join us on Thursday 26th of August at 7.30p.m. in the newly
refurbished studio bar for the rehearsed reading of The Three Musketeers.
It will feature the talents of Debbie Till, Gemma Dodds, Debra West and
Carol Ladson as they stumble unaided through almost the first act of The
Three Musketeers without a safety net. An hilarious night guaranteed!
The Bar, of course, will be open. All welcome and it's free!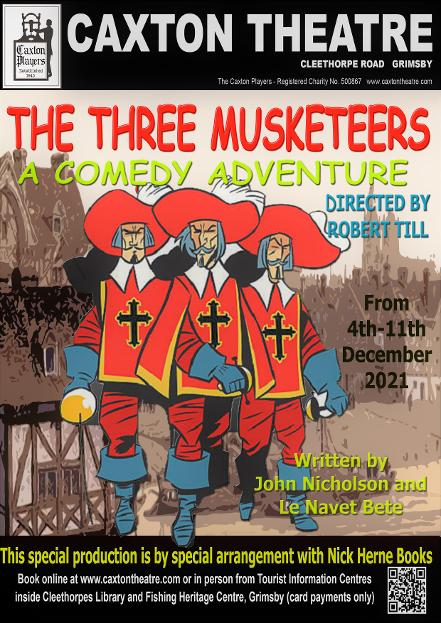 The reading will take place:- Thursday 26th August
The audition will take place:-Tuesday 31st August
Other reading and audition dates:
January Production: Reading 30th September; Auditions 5th October
March Production: Reading 18th Nov; Auditions 23rd Nov