All readings and auditions will take place in the bar, doors open 7.00pm and start 7.30pm unless otherwise stated. All are welcome, you do not have to be a member to attend a reading or an audition.Audition pieces will be available during the night of the reading. You do not have to audition if you attend the reading, come along and join in the fun...bar also open***!
The next reading and auditions are for
'Private Lives'
- SYNOPSIS -
Elyot and Amanda were married, now both remarried & honeymooning with their new spouses, Sibyl and Victor. Unwittingly, they have chosen not only the same hotel but adjoining rooms. Inevitably, they meet. The spark that was between them is reignited and they decide to run away together.
It doesn't take long for them to be reminded of why they parted in the first place!
Sibyl & Victor catch up with them and attempt to 'sort things out'. They are no match for Elyot and Amanda, however. By the end of the play, all social niceties have been well and truly abandoned and Sybil and Victor are behaving as badly as the other two.
Private Lives was written in 1931 and reflects society of that time although the basic premise of the attraction between those who bring out the worst in each other is timeless. This is a fast paced, witty play, written prior to modern ideas of political correctness but no less funny for that. A comedy gem.
-Cast List
Elyot Chase -Sarcastic, witty, shallow. Must look older than Sibyl.
Sybil Chase - Unworldly, emotional, silly.
Victor Prynne - Proper, prim, pompous.
Amanda Prynne - Sarcastic, witty, shallow.
Louise - The maid, must be able to speak (not necessarily understand!) the French in the script.
Playing ages – between late 20s & early 40s; will depend on who's interested in the parts. Louise can be older.

The Bar, of course, will be open. All welcome and it's free!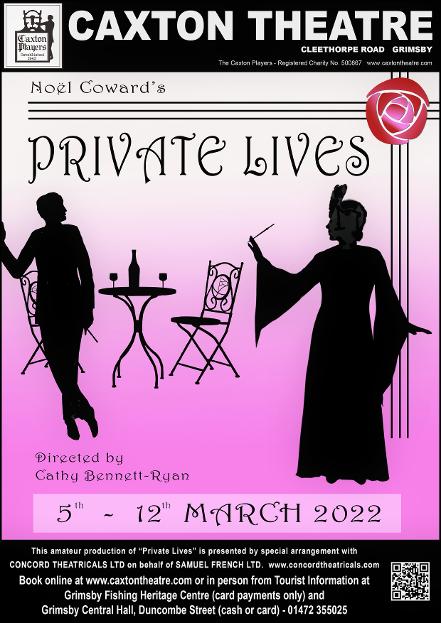 The reading will take place:- Thursday 18th November
The audition will take place:-Tuesday 23rd November
Other reading and audition dates: